At Palace Nail Lounge a popular nail salon in gilbert, az, we believe in the power of self-care and the transformative effect it can have on your overall well-being. Let us be your sanctuary, conveniently located between Mesa and Gilbert, a place where you can escape the stresses of everyday life and emerge feeling refreshed, rejuvenated, and beautiful.
Discover the Palace Nail Lounge difference today. Book an appointment with us and experience the perfect harmony of beauty, wellness, and exceptional service.
We look forward to pampering you at Palace Nail Lounge, located between Mesa and Gilbert, Arizona!
Win a chance of $250 Gift Card
Welcome to Palace Nail Lounge, conveniently located in Gilbert, Arizona!
Experience the perfect blend of beauty and wellness in Palace Nail Lounge. With a rich family legacy in the nail salon industry spanning generations, we bring unparalleled expertise, passion, and a commitment to providing an exceptional nail care experience to residents of both Mesa and Gilbert.
At Palace Nail Lounge, we understand that your nails are not just a fashion statement but a reflection of your unique style and personality. Our talented technicians takes pride in transforming your nails into works of art, you can click this link to watch our customer's reviews with there nail pics.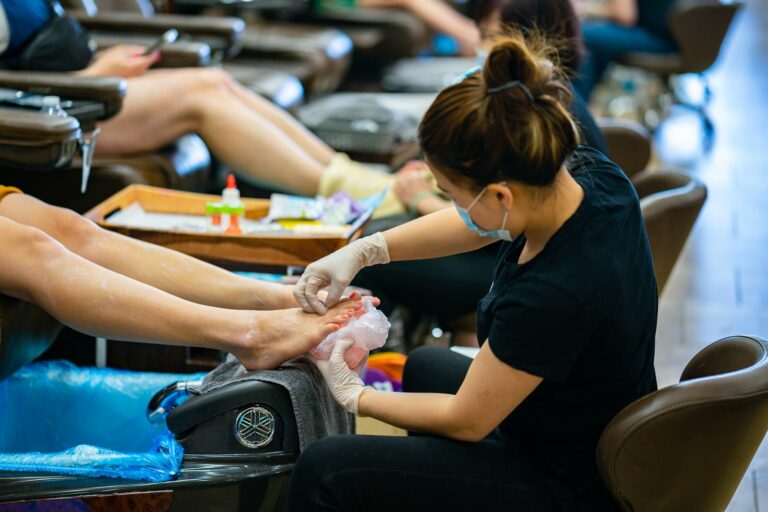 What They're Talking About Us!
Palace nail lounge in Gilbert is amazing! The customer service is 10/10 , All the work they put into this place is astonishing. I would highly recommend this place, I've been coming for 3 years now and it just get better every time. The plus side of it is it comes with a complimentary drink from soda, seltzers, wine, sangria, beer and soon even vodka while you enjoy your pedicure or manicure.
Fantastic Customer Service! Beautiful Layout: very spacious, modern design with rich details in lighting, color and scheme; spa pedicure chairs line both sides of room with manicure tables in the middle; very clean and plasma tvs on walls along with wall waterfall fountains; Denny & his wife are wonderful as are the staff especially Huong. I am always well taken care of and trust their guidance/advice. I was a loyal customer at their previous location at Scottsdale Hand & Foot Spa and moved to the SE Valley a couple of years ago and found this salon. What a small world to be reunited with Denny & company😄 Stop on by and see for yourself. You will be impressed and become a loyal customer too!
Katherine Wisnosky
2023-06-15
I had great experience and will absolutely be coming back! Diane was amazing and did a fabulous job on my nails. They are very fairly priced and so incredibly friendly here. I've found my new favorite nail salon and won't be going anywhere else. If I could give more stars I would, 10/10 would recommend.
Absolutely loved this place. Huong was my nail lady and she was so attentive to my nails, really took her time to properly trim, shape and file the nails; As well as trimming all the dead skin off around my nails. I've been to so many nail places all over the valley and she was my far the best I've been to for a pedicure. The price is fair, what you can expect from any higher end nail place but with the complementary drink (Alcohol) and attention to detail its the best option in my opinion in the area!
Georgina Redman
2022-06-18
Best nail salon in Mesa area 10/10. Beautiful salon with great music. All the employees are so nice and fun to be around. I always come here and leave happy and relaxed. Its a stress free experience with amazing results. HIGHLY recommend Elaine for dip, gel and especially Nail Art and Designs. She did such a beautiful job for my bridal shower nails. I'm in love with them. I'll keep coming back to her every time 😄
Ashleigh Mazella
2022-05-01
I'm obsessed with Palace Nail Lounge. I've been coming here consistently every month, or about every other month since I loved to gilbert 3 years ago. There are other nail salons closer to my house but this one is super special. There's nothing like it! Every time I come, they make me feel like a queen in my palace! I've been happy every time with my nails here, which is surprising because I'm normally very picky! I've never asked for a specific nail tech, and have had amazing service and work done every time consistently. I'm just now getting around to writing a review for my favorite nail place ever. Today was particularly amazing, perhaps my best pedicure of my life. Vicki is a newer nail tech here and I would love to have her again! She did the most lovely design, and took her time and put a lot of care into my service. As if I couldn't love this place more- thank you so much Vicki! And everyone at Palace. Love you!!!
This is my favorite place! Erica is so amazing at nail art it blows me away🤩 Erica is my girl she kills it every time!! Every set I get for my manicures with Erica is so good I get sad when it is time to soak them off! Plus she is super sweet and nice! Wendy and Ann are amazing too! Ann was able to get my ingrown toenail out safely and effectively and it helped immensely with the pain I was experiencing on my big toe before! Front desk is always friendly and nice and gets me in with my preferred person at a time that works for me! I have referred so many people here because of how CLEAN, HYGIENIC, FRIENDLY, and AMAZING the staff is here! And every friend I have had go here loves it! This place makes you feel like a boujie princess and it is a great relaxing time out if the busy week! 10/10! Here are a couple of pictures of my most recents sets Erica did!
I have been coming to Palace Nail Lounge for months now. Trish is absolutely phenomenal. She takes her time and never rushes. Her dip is the best I've found in town! It lasts so long and always looks beautiful! The customer service here is second to none. They are always running on schedule and are so friendly! I refer everyone I know to Palace Nail Lounge.
Nail Salon in Gilbert Palace Nail Lounge
Promoting Health and Safety: Our Commitment to a Cleaner Nail Salon Experience
Your health and well-being are of utmost importance to us. That's why we have taken proactive steps to ensure a clean, hygienic, and safe environment for our valued clients. Our state-of-the-art salon, conveniently situated between Mesa and Gilbert, is equipped with cutting-edge ventilation systems and top-of-the-line sanitation practices, ensuring that you can enjoy your nail care experience with peace of mind.
We are pioneers in promoting a healthier nail salon industry.