Welcome to Palace Nail Lounge where your comfort and point of service are our top priorities
About - Palace Nail Lounge Gilbert
We specialize in manicure, pedicure and waxing for both men and women. Escape from your busy schedule and indulge yourself with our luxurious treatments to pamper, rejuvenate and restore your body and mind. At Palace Nail Lounge, your health and safety comes first. We use hospital grade AUTOCLAVE to sterilize all metal instruments. Basin soaks eliminate bacterial problems associated with pipe-less jet pedicure chair. In addition, nail files, buffers and slippers are disposed each time after use.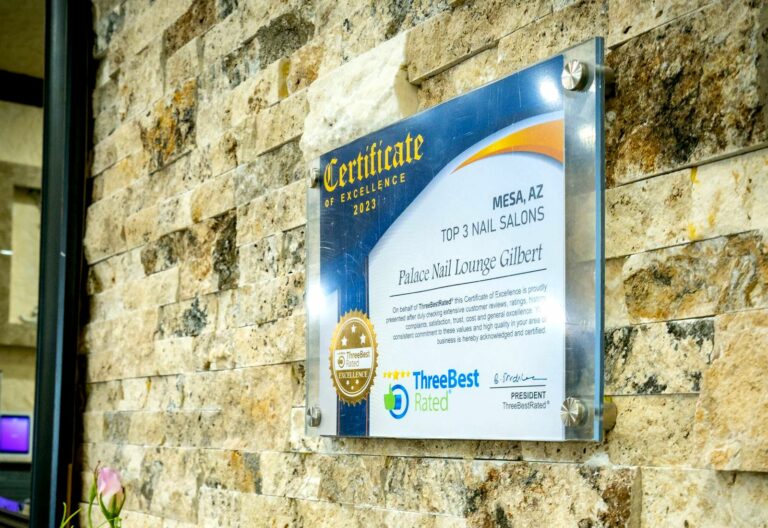 What They're Talking About Us!
We are always looking for new people to fill our positions either as administrative or facility-maintenance personnel, or as one of our manicurists!

Erin Helfrich
This is my favorite place! Erica is so amazing at nail art it blows me away🤩 Erica is my girl she kills it every time!! Every set I get for my manicures with Erica is so good I get sad when it is time to soak them off! Plus she is super sweet and nice! Wendy and Ann are amazing too! Ann was able to get my ingrown toenail out safely and effectively and it helped immensely with the pain I was experiencing on my big toe before! Front desk is always friendly and nice and gets me in with my preferred person at a time that works for me! I have referred so many people here because of how CLEAN, HYGIENIC, FRIENDLY, and AMAZING the staff is here! And every friend I have had go here loves it! This place makes you feel like a boujie princess and it is a great relaxing time out if the busy week! 10/10! Here are a couple of pictures of my most recents sets Erica did!

Alicia Summers
Found this salon in Gilbert next to the super target on power and ray. Booked an appointment for my mom and sister and I and had the best pedicure experience. They offer lots of options for your pedicure with complimentary drink options as well as lots of color options to choose from. We all enjoyed our nail techs company and the beautiful calm atmosphere this place offers. I would recommend this place to any of my friends and family!

Vander Ingram
I have been coming to Palace Nail Lounge for months now. Trish is absolutely phenomenal. She takes her time and never rushes. Her dip is the best I've found in town! It lasts so long and always looks beautiful! The customer service here is second to none. They are always running on schedule and are so friendly! I refer everyone I know to Palace Nail Lounge.

Fort Hubbs
Wonderful service! I have had Elaine both times I've been here and she is wonderful at design! My acrylics lasted a month before I needed to come back in! Great drinks and environment!

Ashleigh Mazella
I'm obsessed with Palace Nail Lounge. I've been coming here consistently every month, or about every other month since I loved to gilbert 3 years ago. There are other nail salons closer to my house but this one is super special. There's nothing like it! Every time I come, they make me feel like a queen in my palace! I've been happy every time with my nails here, which is surprising because I'm normally very picky! I've never asked for a specific nail tech, and have had amazing service and work done every time consistently. I'm just now getting around to writing a review for my favorite nail place ever. Today was particularly amazing, perhaps my best pedicure of my life. Vicki is a newer nail tech here and I would love to have her again! She did the most lovely design, and took her time and put a lot of care into my service. As if I couldn't love this place more- thank you so much Vicki! And everyone at Palace. Love you!!!

Claire Lewis
Absolutely love my nails!!! Elaine did a full set of acrylics and design and it came out perfect! I couldn't be happier and all the staff were amazing, especially the nice receptionist Savannah! Will be coming back regularly from now on!!!
Georgina Redman
Best nail salon in Mesa area 10/10. Beautiful salon with great music. All the employees are so nice and fun to be around. I always come here and leave happy and relaxed. Its a stress free experience with amazing results. HIGHLY recommend Elaine for dip, gel and especially Nail Art and Designs. She did such a beautiful job for my bridal shower nails. I'm in love with them. I'll keep coming back to her every time

Juli Severson
Absolutely loved this place. Huong was my nail lady and she was so attentive to my nails, really took her time to properly trim, shape and file the nails; As well as trimming all the dead skin off around my nails. I've been to so many nail places all over the valley and she was my far the best I've been to for a pedicure. The price is fair, what you can expect from any higher end nail place but with the complementary drink (Alcohol) and attention to detail its the best option in my opinion in the area!